I tried this recipe out tonight and it was a big hit with Tad and Scarlett, and honestly Wes doesn't count because he refused to try it. I found it on Sing For Your Supper by Amy, and I will never regret trying it out. It's only got 6 ingredients and you can make it in under an hour. Here's what Amy had to say: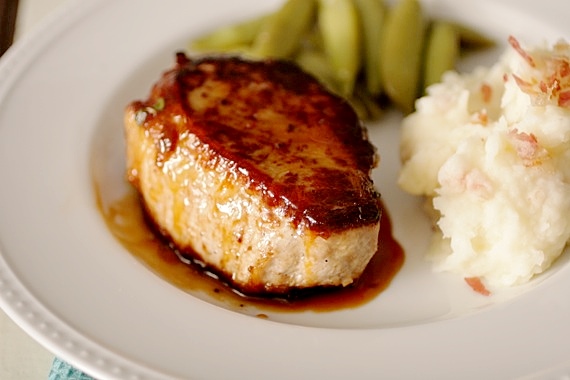 A few weeks ago, Joel and I were able to score some awesome looking, thick-cut, boneless pork chops at the store, so we stocked up. I originally had plans to use them for different things, but actually ended up using them all for this recipe- in less than a month's time! The first time I made this, it was for my family right before Christmas. I seared the chops on both sides, finished them in the oven, whipped up a quick pan sauce with apricot jam and fresh thyme…and WOWEE, what a meal! We all loved it! It wasn't even 3 weeks later before I was pulling the remaining pork chops out of the freezer to make this meal again! I just couldn't stay away! It's just too easy, too quick and too delicious NOT to be making all the time!
Apricot Glazed Pork Chops
4 boneless, thick-cut pork chops
2 tablespoons vegetable oil
salt and pepper
1/2 cup apricot jam or marmalade
2 or 3 sprigs fresh thyme
fresh lemon juice
Preheat oven to 400 degrees. In a large oven-safe skillet (cast iron works best), heat the vegetable oil over medium-high heat until it begins to ripple slightly and smoke. Season the pork chops with salt and pepper and place in the skillet (be careful not to move the chops once you set them in the pan). Cook for about 3-5 minutes, until you have a nice sear; turn the chops over and cook for an additional 3-5 minutes.
Place entire pan in the oven and cook the chops for approximately 20-25 minutes** until an internal temperature of 160 degrees has been reached (alternatively, you can cut into one to check for doneness, but I prefer using a meat thermometer for more accurate results. Plus, cutting into the meat lets all the good juices run out!)
When the pork chops are done, remove them from the pan and cover them with foil. Set aside. Place the pan over low heat and whisk in the apricot jam, thyme and salt and pepper. Depending on how much cooking juices you were left with in the pan (you'll want at least 1/4 cup of liquid from the chops), you may want to add a little chicken broth or water to thin it out (start with a couple of tablespoons and go from there). Check the sauce for seasoning, then finish with a squirt of fresh lemon juice.
To serve, spoon the sauce over the pork chops. Serves 4.
**Depending on the thickness of your pork chops, you may require less or more cooking time. Mine were around 2 inches thick so it took a full 25 minutes, but if yours aren't quite as thick as that, start checking them at 15 minutes for doneness.
Recipe source: Sing For Your Supper original
Don't worry about surfing Pinterest for your next dinner menu, I've got ya covered.