I'm not sure I could choose! I love them all :)
Green Lantern - Kind of a screw up, but one that always comes through in the end. He's powerful and capable of doing anything he can imagine!


Played by Ryan Reynolds - And you can't really go wrong with Ryan Reynolds. He is one of my favorites :) Funny, sexy, and HOT! If you want to know more about him and why I like him click here.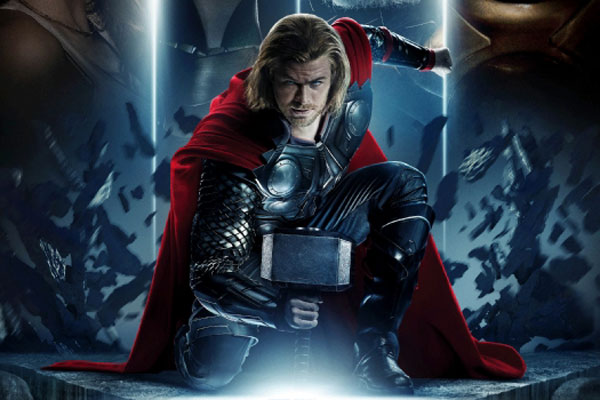 Thor, God of Thunder - Although he starts as the over-privileged and over-confident son of Oden, but his time on Earth teaches him compassion, humility, and the true meaning of honor. (Just a sidenote, but I was pleasantly surprised with how much I really loved the movie Thor, it's really good! You can watch it on Netflix Instant)
Played by Chris Hemsworth - And Chris is no slouch himself. Heavily armed with muscles, looks, and just plain sexiness.
Batman - Somewhat dark and brooding, not to mention that he comes with definite baggage, however he's found a way to channel his issues into making the lives of the people around him better. Not to mention he's also a rich playboy!
Played by Christian Bale - Oh, I cannot tell you how much I love Christian Bale. He has been a favorite of mine since I saw him in Newsies when I was little, but I like him more and more as time goes on. He was incredibly awesome to go and visit the victims of the Aurora shooting! If you want to see more on Christian click here.
Spiderman - Poor Spiderman, nothing ever seems to go his way. Even his hardest efforts to protect the people of NYC get twisted and turned and somehow he gets portrayed as the bad guy! Even so, he's funny, witty, incredibly smart, and fiercely loyal.
Played by Andrew Garfield - This is the one movie I haven't seen yet, so I can't give you an accurate opinion on Andrew. I plan to rectify that soon! I will say the he looks promising :)
Iron Man - I will admit that I new very little about Iron Man until his movie came out, but as soon as I saw it I was hooked. He's a rich playboy who always gets his way and just happens to be incredibly talented, which only adds to his feeling he needs to get his way all the time. Either way, he makes me laugh.
Played by Robert Downey Jr. - I hadn't really kept track of Mr. Downey Jr. ever before, but I've gotta say that I love him in this role. I love his attitude :)
Hawkeye - Oh Hawkeye, you have always been a favorite of mine. I know he doesn't have any special powers or cool rings or robotic suits, but he's awesome! Like Batman he's got an edge of brooding about him, and he doesn't take well to stupid people. He's got deadly aim and he doesn't stop until he's hit his target.












Played by Jeremy Renner - I'd never heard the name Jeremy Renner before I watched Mission Impossible: Ghost Protocol. I was impressed then and I had no idea he would soon be playing in 2 of my most anticipated upcoming movies, The Avengers and The Bourne Legacy.